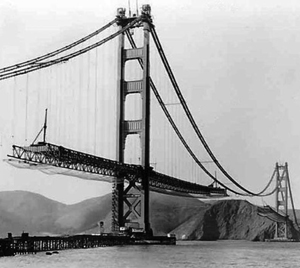 The Division was founded in 1980 as part of the establishment of the multi-campus Northern California Center for Occupational and Environmental Health (UC Berkeley-UC Davis-UCSF), a unit that was mandated by the state legislature to provide training, research, and clinical service.
In 1992, Dr. Paul D. Blanc and Dr. John R. Balmes assumed the positions of Division Chiefs at Parnassus-Mt Zion and SFGH, respectively. In 2002, Dr. Balmes was additionally appointed to the faculty in the School of Public Health at UC Berkeley School of Public Health in its Division of Environmental Health Sciences and as Director of the multi-UC Campus Center for Occupational and Environmental Health (COEH). In January 2015, Dr. Blanc became Chief of an integrated three-campus Division of Occupational and Environmental Medicine that includes a new academic Division at the UCSF-affiliated San Francisco Veterans Affairs Health Care System (VAHCS) as well as the existing Parnassus-Mt Zion and SFGH units. Dr. Balmes assumed directorship of the joint UCSF-Berkeley Joint Medical Program (JMP) in addition to his roles at SFGH, UC Berkeley, and COEH. In late 2020, Dr. Balmes stepped down from the JMP and formally transitioned to Emeritus status, remaining Director of COEH. In 2019, Dr. Carisa Harris-Adamson, Associate Professor of Medicine in the Division of OEM, assumed the role of Deputy Director of COEH
In addition to internationally recognized research programs in occupational and environmental lung diseases at both the Parnassus-Mt. Zion and SFGH campuses under the leadership of Drs. Blanc and Balmes, an internationally recognized program in ergonomics research that was established by Dr. David Rempel and subsequently led by Dr. Harris-Adamson is based at the Richmond Field Station campus of UC Berkeley. The Division has long been the site of a Health Research Services Administration and CDC/National Institute for Occupational Safety and Health (NIOSH)- funded training program, the UCSF OEM Residency. These training grants were successfully renewed in 2018 and 2020, respectively. This ACGME-accredited residency, governed by the American Board of Preventive Medicine, is one of the largest in the United States. Division physicians provide clinical care at the UCSF Medical Center, SFGH, and the VAMC campuses, as well as medical direction for Occupational Health Services for employees at all three sites. The Division has been central in UCSF's employee health response to COVID-19.  Members of the Division faculty are prominent in a variety of scholarly endeavors. In 2020, long-time faculty member Dr. Robert Harrison co-edited the latest (6th) edition of Occupational & Environmental Medicine (Current Diagnosis and Treatment), a textbook originally edited by the Division's Emeritus Professor, Dr. Joseph LaDou. OECM faculty members also play leading roles in various public health policy activities at the state, national, and international levels.
Selected Dates in Occupational, Environmental, and Climate Medicine History
| | |
| --- | --- |
| January 16 | January 16, 1936 - Dr. Leonard Goldwater testifies to Congress on Gauley Bridge silicosis disaster |
| January 27 | January 27, 1974 - First newspaper notice of angiosarcoma deaths linked to vinyl chloride |
| February 21 | February 21, 1891 - Springhill Mine Disaster, Nova Scotia, Canada |
| March 20 | March 20, 1953 - Tony Mazzochi takes leadership of United Gas, Coke, and Chemical Workers' local |
| March 25 | March 25, 1911 - Triangle Shirtwaist Fire |
| March 28 | March 28, 1979 - Partial meltdown at Three Mile Island nuclear power plant |
| April 22 | April 22, 1915 - First World War I - use of chlorine gas by German forces |
| May 1 | May 1, 1956 - First public health report on new disease of the central nervous system in Minamata, Japan |
| June 12 | June 12, 2012 ‐ IARC classifies diesel engine exhaust as carcinogenic to humans (Group 1) |
| July 6 | July 6, 1884 - Prussia enacts first workers compensation statute |
| September 9 | September 9, 1977 - Joint Press Conference by OSHA, EPA, and FDA to disclose plans to control exposure to DBCP, a sterility-causing pesticide |
| September 27 | September 27, 1962 - Silent Spring by Rachel Carson first published |
| October 4 | October 4, 1716 - James Lind born in Scotland; he went on to systematically study the prevention of scurvy and otherwise improve the occupational health of seafarers. |
| November 3 | November 3, 1633 - birth of Bernardino Ramazzini, author of the ealiest known book on occupational diseases, De Morbis Artificum Diatriba ("Diseases of Workers") |
| November 9 | November 9, 1815 - Humphrey Davy announces miner's safety lamp to Royal Society |
| November 25 | November 25, 1960 - First showing of CBS Reports' "Harvest of Shame" on migrant agricultural workers |
| December 5 | December 5, 1952 - Killer London fog begins |
| December 29 | December 29, 1970 - OSHA act signed |
| December 30 | December 30, 1969 - Coal Mine Safety act passed |