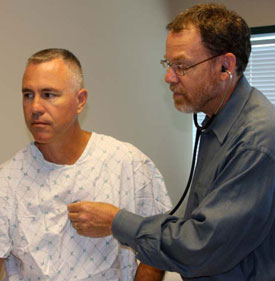 The UCSF Occupational and Environmental Medicine Clinic cares for patients and families with injuries, illnesses, harmful exposures, and other health concerns related to the workplace, or the home or ambient environment. Our health care providers diagnose and treat work-related and environmental injury and illness under workers' compensation programs, through private insurance coverage, and in medical-legal cases. We also perform in-depth expert consultation to assess disability or ability to return to work. At the Occupational and Environmental Medicine (OEM) Clinic, we are familiar with the latest studies on chemical exposures and their adverse health effects. When appropriate, we can arrange for workplace visits and testing and we will use such findings to inform our recommendations on reducing or eliminating hazards.
Dr. Robert Harrison is the lead physician in our faculty practice OEM outpatient practice, working with the Director of UCSF Occupational Health Services, Dr. Robert Kosnik, who is co-located at the same site. All of our UCSF Occupational and Environmental Medicine residents, licensed physicians receiving additional specialty training, also support the OEM practice. In addition, UCSF Nurse Practitioner trainees in Occupational Health and UC Berkeley industrial hygiene graduate students rotate through the practice, making it a major teaching site in the field. 
Occupational and Environmental Medicine Clinic
2330 Post St., Suite 460
San Francisco, CA 94117
Phone: (415) 885-7580
Fax: (415) 771-4472
Hours: Monday and Thursday
9 a.m. – 4 p.m.
If you're a UCSF Employee, please see UCSF Occupational Health Program to make an appointment or find out more about our services.
For all other referrals and appointments, please visit UCSF Health Medical Center.